Research & development
Visions that work
Autocraft's R&D team creates the bridge between vision and reality.
Our aim is to connect the product requirements of our customers with Autocraft's expertise and competency in applications, process design, product development and high-quality production.
The R&D department consolidates the expertise of various experts, not only in product engineering, but also in every step of the production process; raw material processing, cold heading, cold forming, thread rolling,
heat treatment and surface treatment.

Working closely together with our customers, our R&D engineers will assist in developing customized products according to conceptual ideas as well as specific client requests.

By utilizing advanced testing and production facilities as well as simulation software for cold heading, we are able to devise the most effective production methods for both standard and complicated parts.
Internal raw material processing facilities and advanced testing laboratories serve the development of suitable raw materials for specific product requirements.
A strong focus on process management, innovation and testing ensures superior quality of critical and safety parts for automotive, aerospace and various industrial applications.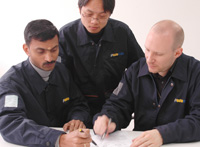 Key components of our R&D strategy :



process and product innovation


customized production and development


international team of engineers supervise key production processes


internal raw material processing facilities for new material development


advanced testing and simulation for product perfection


continuous improvement